The Long Run 'some of the way' Home.
31st July
by Martin Yelling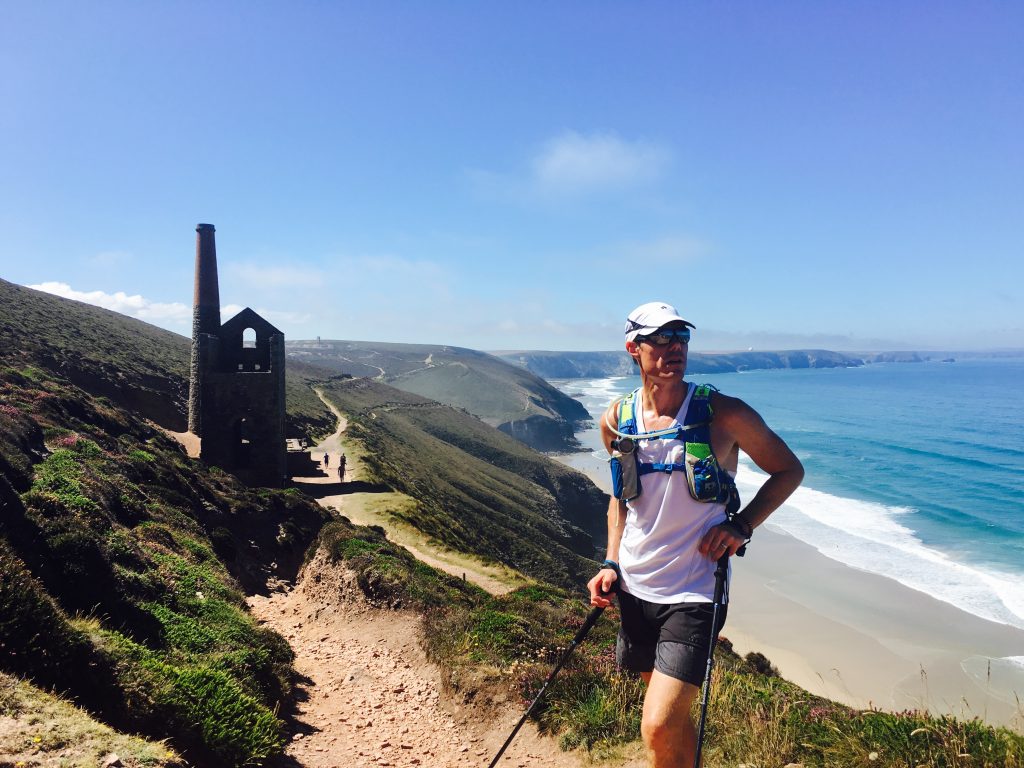 I always knew it was going to be difficult. The challenge of running 630 miles over 21 consecutive days on Britain's longest and arguably toughest trail, the South West Coast Path, was, for me, a big ask. I genuinely didn't know if I was asking too much of myself, pushing too hard and stretching the boundaries too far. Yet that uncertainty and high risk is why I set out to achieve the Long Run Home in the first place. Yes, I could have allowed more time, run less daily miles and included rest days but that wouldn't have flicked my switch, floated my boat or kept me trucking. I wanted to genuinely see where / if the limits were.
Much of our society exists in a climate of comfort, we see examples of people 'achieving' all the time, smiling faces, image overload and we celebrate with furious back patting, and oh yes, the world shall continue to wonderful place. Success in and at everything becomes normalised, accepted and a given. It doesn't always work out like that. Infact, defining success in outcome terms can be tricky, misleading, stifling and sometimes destructive and limiting. Our society is overly results driven and expectations around times, performances, 'passing or failing' seem to define success. Instead, perhaps we should ask how was the experience for you, what did you learn? Did you give it your best effort? I wasn't expecting to not finish this adventure. Yet I've been amazed and humbled by what the journey has given and taught me, how other people have supported me, how it's inspired them to take perhaps their first or furthest steps and how brilliant achievements don't actually have to be about times, performances, outcomes or 'making the end'.
Sure, I fell down a few times, things got pretty messy, curve balls were thrown, unexpected, difficult and emotional events happened, I pushed physical, mental and spiritual boundaries, I took the blow of spanners thrown, but truth be told, it's the beauty and pain of the striving that made the challenge remarkable. Days were long and hard, the weather was hot, the terrain tricky, occasionally brutal, injuries came and went and came back again, each day was a battle. Yet, it's a battle I'd take every single day of the week, every week of the year over and above the adversity and struggles that some people face. Families with children with life-limiting illnesses, people facing long and uncertain periods of chemotherapy or those wrestling with mental health, anxiety and depression. I'll take running in the warm sunshine with the clear blue sea on my right anytime.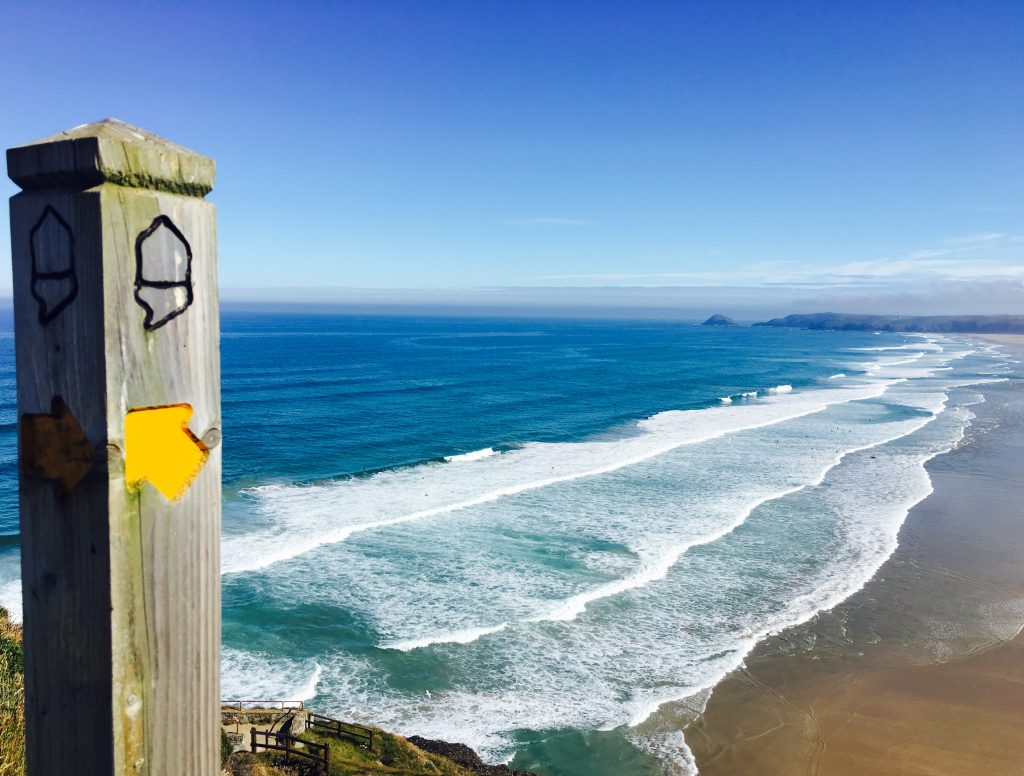 Being brave is about daring to do something, anything, that you're not sure you can do. Doing your uncomfortable in whatever way you choose is a remarkable privilege to undertake. I hope my journey has encouraged folk in some small way to brave the uncertain, to tackle the uncomfortable and to reach into difficult spaces with courage that the outcome will be what it will be. And that's ok.
This Theodore Roosevelt quote resonates.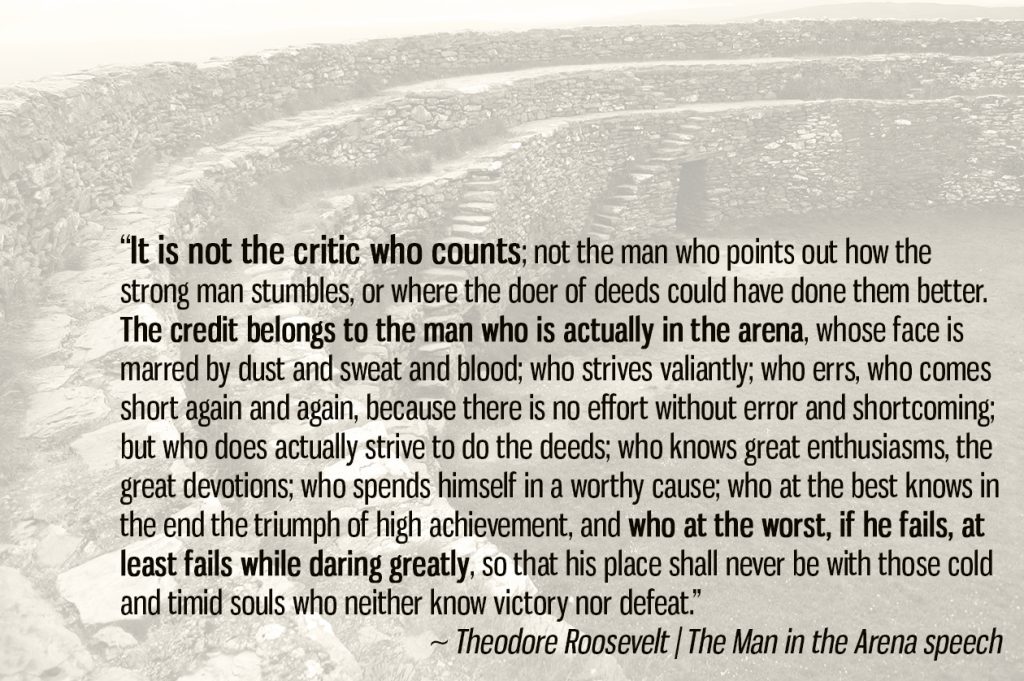 So just why did I stop?
My first 8 days were amazing, exciting, brutal and beautiful in so many ways. I wasn't expecting to bump into Elvis (the camper van, being driven by my Step Dad, Ray) on the narrowest single track road in Devon on Day 1. Turned out Elvis got pranged that day! The total elevation in those first 8 days between Minehead on the North Devon coast and Sennen Cove was over 48,000ft. That's over 1.5 times the height of Mount Everest! I worked through the first 3 days (and 100 miles) between Minehead and Clovelly knowing that days 4 and 5 were going to be the most demanding perhaps of the entire adventure. Day 4 between Clovelly and Crackington Haven was 36miles with 8,600feet of ascent. It took me over 12hours and was seriously tough.
One of the amazing things about the Long Run Home was the way in which other runners joined me for the full stage or for parts of it and on this particular day James rolled up in Bude to cover the final 10miles. I think it was tougher than he expected and, as a diabetic, he got into a spot of trouble. Calling the emergency services at 11pm at night from a car park in the middle of nowhere after a brutal day on the trails wasn't something I'd factored in! After getting my head down at 1am I was up again at 6.30 ready for Day 5 between Crackington Haven and Padstow. 32 miles and 9,400ft of climbing later I found myself 'racing' (very loose term) across the beach to catch the final ferry of the day between Rock and Padstow. I made it by 15seconds.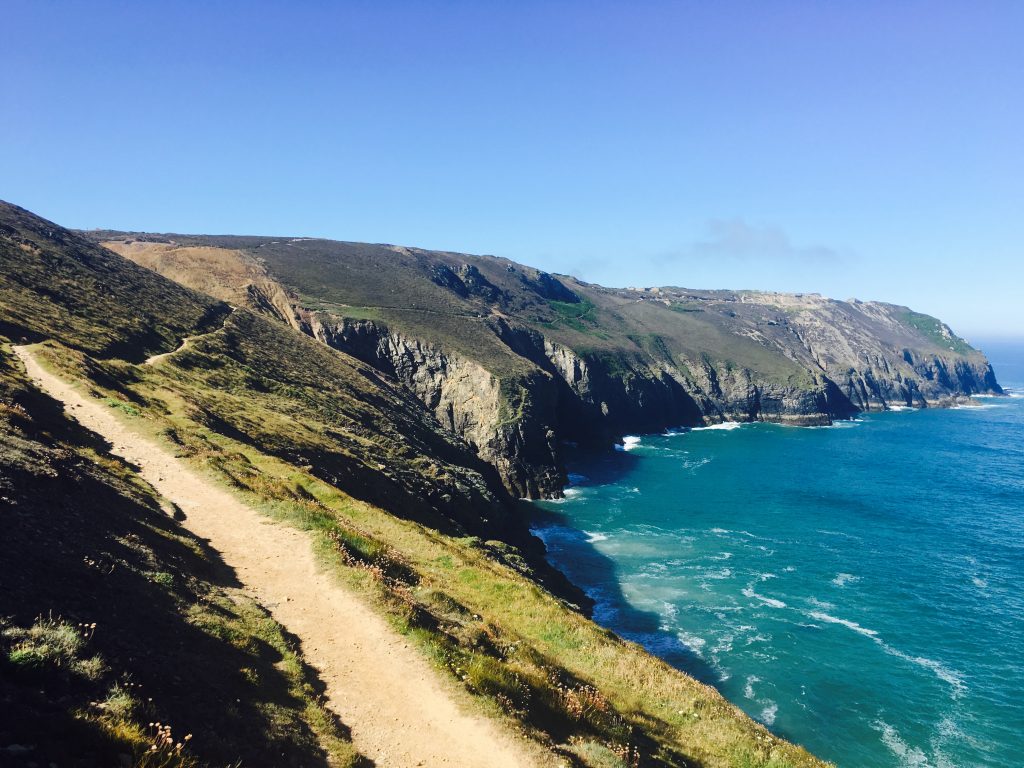 Arguably these two days didn't set me up too well for Day 6. My focus had been on getting through days 4 and 5 and I naively assumed Day 6 between Padstow and Perranporth would then be a 'recovery day'. At 35miles and 10hours of running it certainly wasn't. I really struggled over the final few miles. Day 7 to Carbis Bay, St Ives, was a surprising turnaround. The weather was exceptional, sunny, warm and bright and the sea calm but for a few 4 to 5ft rollers with a decent 12second wave interval (dude, I wish I'd brought my board!). I finished today on high and knew that as I approached Lands End I was about to take a huge left turn towards home.
I'd been aiming at Day 8 to Sennen Cove for a while as it was 'only' 26miles and much shorter than previous days. The plan was to get it done and dusted and get as much recovery time as possible. How wrong was I. This was the hottest day of the year so far, the most remote day of the South West Coast Path so far, and, as my Dad (Alan) had experienced a few difficulties finding designated check points we'd opted that I'd run the full stage without support. I'd hideously underestimated the difficulty of the terrain underfoot, especially with the 'fat foot' inflammation I'd been carrying for a few days. Forget running, this was bouldering with the majority of the stage barely run-able. 9 hours after setting off I arrived in Sennen Cove pretty broken. Things got worse from there.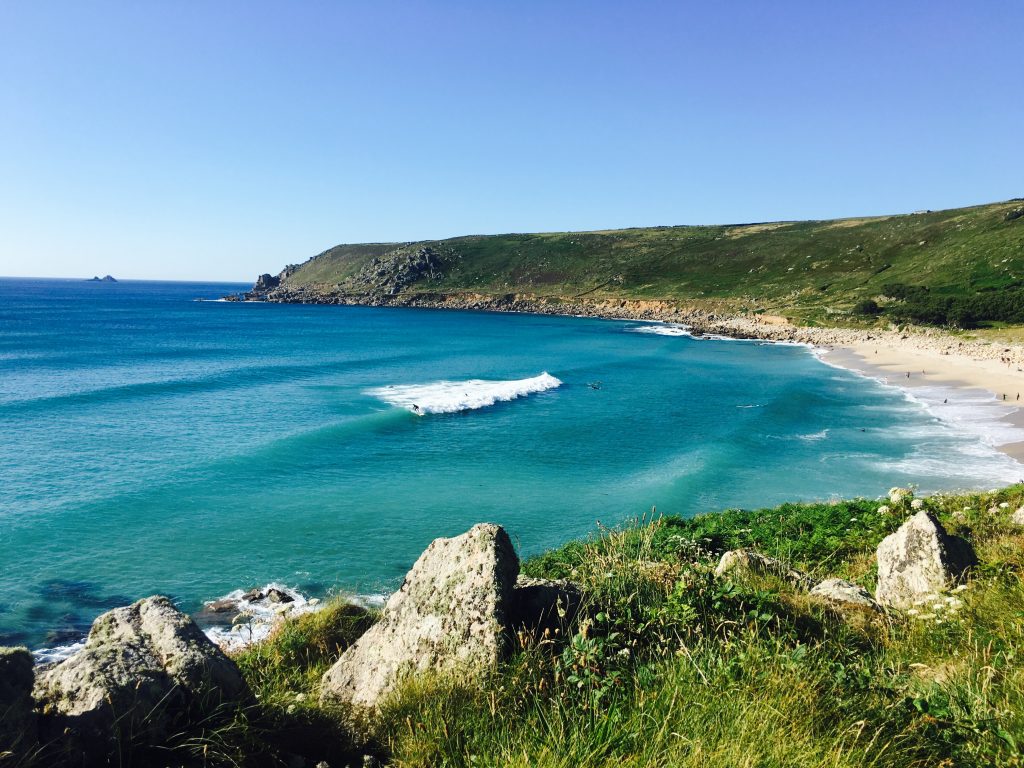 On returning to the campsite it was clear that my Dad wasn't well and was deteriorating. He needed to get home. The only and right decision was to take him myself. Sometimes plans change, unexpected events happen and need dealing with in the correct way. The South West Coast Path will always be there. My personal quest to run it would have to wait. The following morning I got up at 5.30am, packed up the camper van and drove my Dad 7hours home.
Unavoidable logistical issues, family settling, and school term times meant that I missed 3 full days running and so I decided to return to the path not where I left it but where I should be on the schedule with Day 12. This was 38mile day from Falmouth to Par with 8,000ft of elevation and it almost broke me. My left quad pulled with about 12 miles to go and so the final push was a struggle of epic proportions as my body constantly told my mind that it was time to stop but my head simply wouldn't allow it. I finished the stage after 12hours to find my wife and children waiting in near darkness in a random car park in the middle of nowhere whilst young local car driving enthusiasts did donuts in their corsa's.
Day 13 started with conviction but ended early with a struggle. I got halfway to Polperro and the quad pain was now incredibly intense and stopping me from running at all. Downhill was much worse. I was taking 45minutes to cover a single mile. On arrival in Polperrro unable to walk I dragged my sorry self to my family and collapsed on a bench. Liz took the tracker and finished the run and I decided that I'd take a rest day and if I couldn't complete the following full day then that would decide my challenge was over. That said, we almost came home that night as at 9.30pm we still had no accommodation. My wife had been pitching a tent every day and packing it up every morning before we moved on to the next stage and this particular night the camp site had fallen through. We did manage to find somewhere eventually – picture three tired, hungry, crying children, a shattered wife and a broken runner. Yeah, things were that good.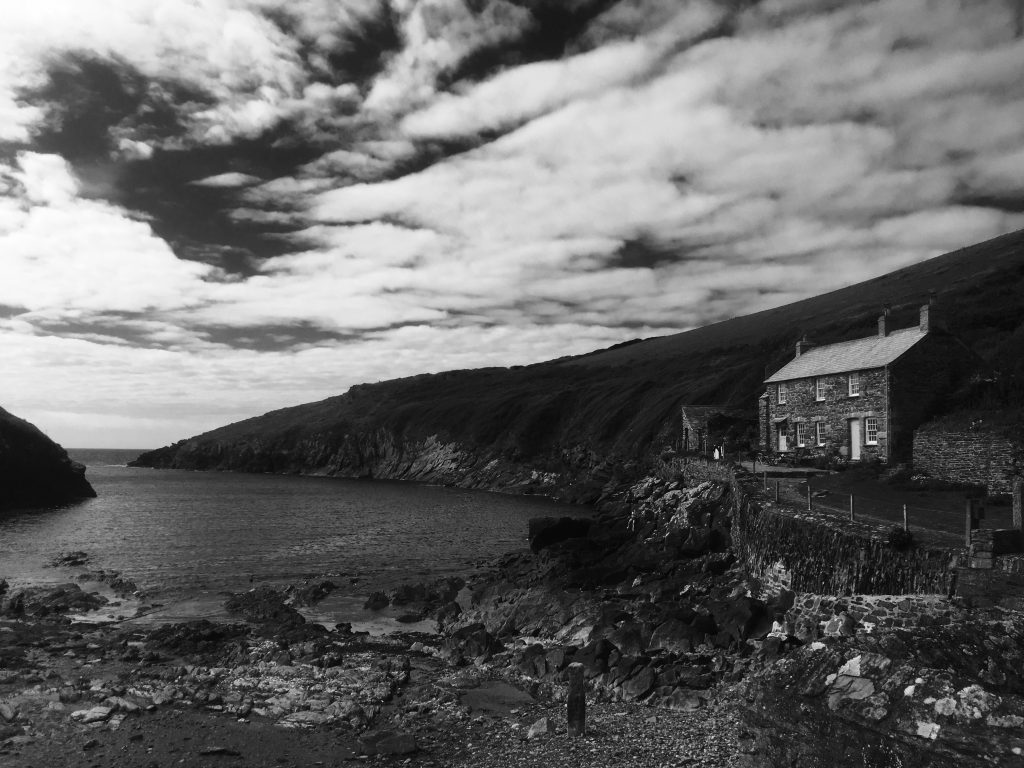 After a days rest I set out for Day 15 knowing that should my quad hold up then I'd tackle the remaining days. After 10 miles it was pretty clear it wasn't going to and I reached 'Hope Cove' around 5.30pm with 8 miles still to run. This would mean arrival at the stage finish at around 9pm. With a 38mile day on the horizon I figured that if I reached 5.30pm and still had 18miles to go it'd be a midnight finish. I made the call right there that things wouldn't work going forwards. It wasn't fair to my family to leave them when injury prevented me from moving at pace fast enough to complete the required daily miles. Perspective is vital in these situations. It's easy to forget, to take for granted others around you, to get so swallowed up in your daily world that you loose focus on the truly important things in life. My rocks weren't on the trail. They were sat in a cold van in car park or side road at the end of every day. I stopped and went into the Hope and Anchor, called Liz to pick me up, and downed a couple of cold pints!
4 key things I learned during the Long Run Home.
1. That the spirit of the running community is inspirational. This is my number one takeaway. Once I stopped running I figured the challenge would be over. I couldn't have been more wrong. I've been humbled and inspired by my fellow runners that joined me every day when I ran but also by those incredible individuals, strangers and friends who, full of love, courage and passion kept the tracker moving every day handing it over to each other at the end and start of each designated stage and in a very special way completed the remaining South West Coast Path on my behalf. When I couldn't run they kept the tracker moving and that was uplifting, inspiring and soul nourishing.
2. That our bodies really are amazing. I asked some pretty difficult questions of my body during the run and it always responded. Even when I thought I was tired I really wasn't that tired and could do more. I carried niggles and pain from day 1 but found they could be worked through and would come and go. Once injury really hit though it became much harder to manage the suffering and once going downhill became both dangerous and painful it signalled a time to review. Injuries will heal and the South West Coast Path will still be there.
3. That it's okay for comfort zones to be different. The comfort zones that we choose to stay within or step outside of are all different. We might share some similar physical spaces but our psychological and emotional spaces, tolerances and understandings vary tremendously. I'd failed to acknowledge the depth and direction of some of the comfort zones of others and particularly that coming into 'my world' when yours is very different would represent a colossal, stressful, and painful step change in attitude.
4. That doing things differently doesn't mean failure. Ok, so I didn't get to run the entire South West Coast Path, I didn't get to run down the beach to South Haven Point in Poole and touch the big blue SWCP sign that has been a dream for years. But I did get to spend some incredible time in so many beautiful places with wonderful people. I did get to witness the spirit, friendship, patience, determination, commitment and courage of runners along the path who ran with and for me. I don't think that's failure. I think that's winning.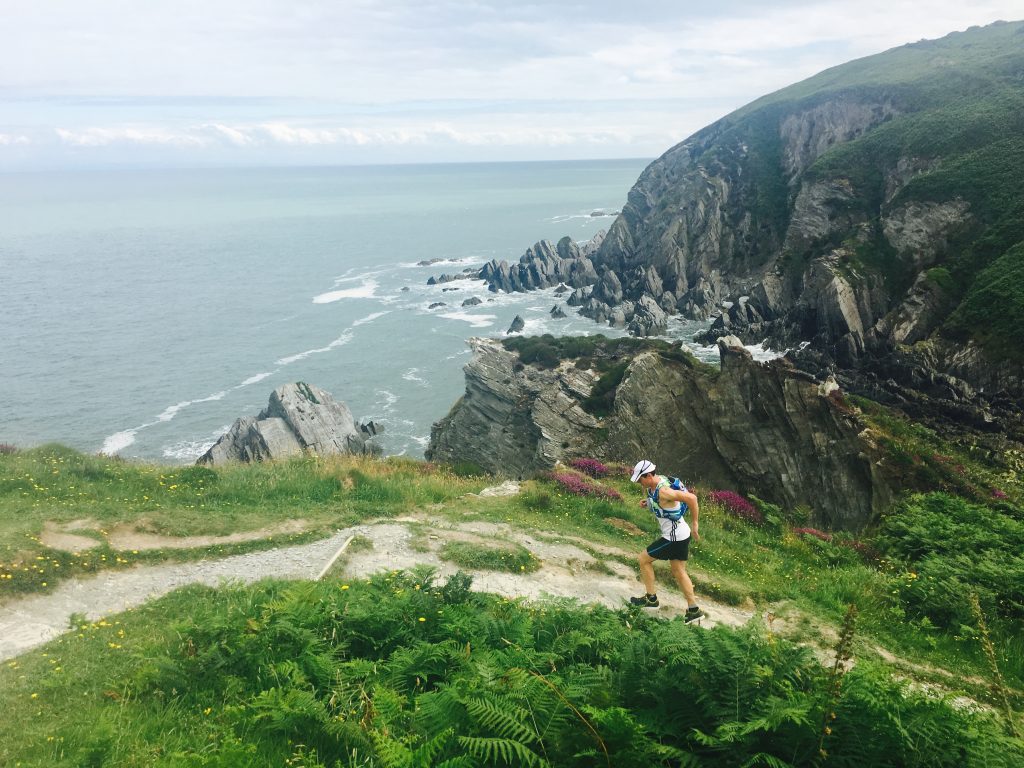 Thank you to everyone who shared the journey's highs and lows with me digitally or in person on the trail, especially all of the stage runners with or without me! A massive thanks to my step Dad, Ray and to my Dad, Alan for being support crew. To my fantastic wife and children for suffering a dreamer. To my Mum for instilling in me an enormous drive, strength and courage to believe that anything is possible, and to everyone else who has followed the Long Run Home journey, thank you for being a part of it.
Finally, a huge thank you to everyone who has sponsored me, including all the stage sponsors who made donations direct to the charity: Bullit Group, Fitness Rewards, Amplify Life, Little Miracles, GSi Events, Team Brain Injury Support, Cicerone, Breathe Unity PR, Harlequin Homes. Thanks also to adidas, Strava, Suunto, My Protein, The South West Coast Path Association, Parachute and three amazing charities Julia's House, Macmillan and Southmead Hospital Charity.
Watch the daily updates, stories and reviews here.
Now, stop sitting there reading this shit and go and do things differently, embrace your uncomfortable and truly live.